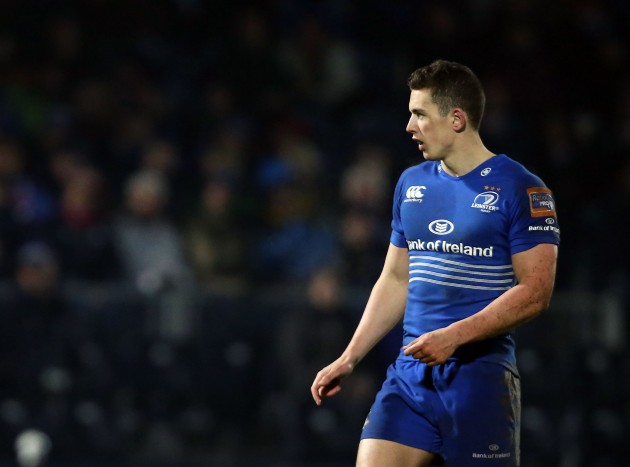 The first time I saw Noel Reid play in the flesh, I made up my mind that he'd never make it as a professional player.
It was a weird atmosphere in the R.D.S., a strange mixture of ambivalence and venom on a sunny 2012 Good Friday evening – a B&I Cup Semi Final with extra spice, the day before Leinster would hockey a woeful Cardiff in the Heineken QF.
Much of the crowd was made up of those who came only for the drink. The R.D.S. was turned into a sort of member's club for the night, one of the only places you could enjoy a pint in Dublin. But the usual brotherly love between Leinster and Munster crowds, and a particularly raucous bunch of Southern invaders, who had obviously made use of the alcohol availability, meant venom wasn't in short supply!
On the night, Munster brought a fairly experienced team, while Leinster were relying more on untested Rabo players and a few bigger boys thrown in. I had heard a lot about an impish little playmaker and was looking forward to seeing him live at a fairly decent level.
Reid started that night at 10, and to say he had a nightmare would be selling it short. He was blocked down twice as far as I can remember, got turned over in contact, kicked poorly and passed poorly. He was small, light and completely shown up by his fairly limited Munster counterpart Scott Deasy. Munster won after extra time, Martin Moore showed his promise, but the big disappointment was the performance of our 10.
In the pub after, we predicted he'd diminish into obscurity, one of those Leinster names that you remember in passing.
How wrong I was though eh?
Footwork
Bulked up, devoid of the scrum cap, but retaining that playmaking ability, Reid has flourished in a permanent move to 12. Last season's breakout was similar in many ways to how the likes of Eoin O'Malley, Dave Kearney and Fergus McFadden burst onto the scene with strong Rabo performances.
Reid looked solid in the tackle, and his footwork, speed, support lines and passing  were some of the only highlights in a pretty staid Leinster Rabo backline, culminating in an Ireland cap in Argentina during the Summer.

At 24, and given the competition at 12 behind him in Leinster, Reid was perhaps entering last chance saloon, but now he's supping champagne at the main bar. Perhaps more interestingly, in recent days, BOD, D'arcy, Heaslip and Matt O'Connor have all name checked the Clontarf lad as being a key part of the backline for this impending season.
Knowledge
For as long as we care to remember, Leinster's 12 has been more bosh and 'Bod foil' than silky skills, McFadden and particularly D'arcy have played the power game to a more nuanced 13 with aplomb in recent times.
On the other hand, the term 'second 5/8th' in an Antipodean sense fits Reid's bill – a smaller general supporting the two inside. The likes of Beale, O'Connor, Lealiifano and in particular Giteau have played the role recently for Oz, normally with a powerful 13 outside them, so MOC will have plenty of knowledge of the system.
Reid's rise will come in tandem with the departure of the hallowed one at 13. With many expecting D'arcy, McFadden and Te'o to come into that jersey throughout the year,  a playmaking 12 could be critical to unlocking a backline with one of these three in the outside jersey.
Reid will also get an extended run of games, with many of the others subject to national stipulations. Like Ruddock last year and Kearney the year before, he could flourish into an important leader in that backline.
Luckily, Leinster have another potential 12 in waiting in Madigan. Increasingly, my opinion is that he'll never make an international class 10, and with his step, pass, bulk and particularly with Le Sex supposedly returning 12 could be the answer. The extra space offers him more time to line up a man and cut a line, which is one of the key parts of his game.
O'Connor has been murmuring about an emphasis on improving backline play, as we saw from Madigan in the Rabo Final and Reid throughout the year, he has plenty of options.
Trending
The playmaking 12 seems to be the tactic du jour in Irish rugby at the minute, with our aforementioned Southern brethren set to trial it too. Since day one, Foley has been clear in his promise of having two footballers in those key positions, and with three men capable of interchanging in Hanrahan/Keatley/Bleyendaal, we should see a far smarter Munster backline. Having both Hanrahan and Keatley on the pitch at the same time last year yielded mixed results, but did seem to work in the Aime Giral…
The split backline will likely be used, with an increasingly world class Murray trusted to make the decisions, while Smith at 13 might be a similar signing to Te'o, a hard hitting, 'up the jumper' type to provide balance to the nuance inside.
Similarly up norf, the cult of Stuart Olding is growing. Many see the golden haired one as a 13 or 15 predominately, but with Luke Marshall's future looking slightly cloudy and neither Cave or Payne likely to pull strings at 12, this too could be an option for Kiss to trial, at least in the Rabo.
For Reid, being mooted by BOD on his BT Sport debut, and MOC on his first big interview of the season as 'one to keep an eye' must be a huge boost, given where he's come from. This should be a very interesting season for proponents of the running 12.
* Noel Reid image via Inpho