I'm re-reading Clive Woodward's book 'Winning' again.
Yep, you heard that correctly! While I'm not necessarily a fan of the bald one, it's one of my favourite rugby/business books, and offers a fascinating insight into how that England squad marched into the professional era.
Woodward, whatever you might of him, was truly a rugby visionary, combining psychology,
world class coaching and analysis with a professional edge that hadn't previously been seen in the Northern Hemisphere game. In that way, there's quite a few similarities between the step change that he oversaw with England, and the current culture shift that Joe Schmidt is bringing the Irish camp through.
Without wanting to denigrate the work of Declan Kidney, EOS or Gatland, the common purpose that the national side has right now just feels very different to what's gone before.
Of course, Woodward isn't shy about putting his success across in his book, and perhaps that's the key difference between him and Schmidt, but both men share a love for structure, the famous "1% margins" and an analytical, methodical personality.
Progress review
Throughout the book, Woodward emphasises building blocks, iterative goal setting and constantly reviewing progress, learning and refining as his tenure moves towards the famous '03 win. He uses a 7 step guide to measure success on a few occasions, and as I re-read, it struck me how relevant each of the headlines were min the guise of where Schmidt's Ireland finds itself currently.
So, with the Autumn Internationals in the rear view mirror, let's review using Uncle Clive's method.
Scoreboard
In all three games, Ireland were incredibly clinical, setting up high return kicking opportunities, and making the most of 'red zone' visits. An continuation of the average of 24.5 points against both Oz and South Africa should be enough to win any test game, particularly given how mean the Irish defence usually is.
Performance
Perhaps the worst area, since none of the three performances were 'Schmidt perfect'. The backplay likely needs work, the centre conondrum needs to be solved, and, perhaps most importantly, the set-piece fell apart twice. There's been talk of a 'smooth transition' between Plumtree and Easterby, and indeed it hasn't been too bumpy, but losing 4 lineouts and scrum penalties to James Slipper won't have pleased the management. The Irish maul also looked like it had dropped a level from Spring and Summer, though perhaps this is by proxy of a shaky lineout and different personnel.
Team
Going back to Woodward, there's a story in his book about a trip to a Royal Marine training camp, where the inspectors opened his eyes about 'energy sappers' within the group, the guys who moaned when the going got tough, and 'sapped' the positivity from others. After a dressing down from the coaching team, some of these stepped up, while some never played for England again.
Jamie Heaslip told a story last year of how Schmidt operates in a similarly manner, emphasising positivity. According the the number 8, the manager mentions all of the negative points in a player's game early in the week, and after Wednesday, only says positive stuff to his team.
Bringing a team of four proud provinces, with such separate identities together has always been a challenge, but looking at the way POM embraced Madigan after the latter's final turnover on Saturday, and how cohesive the team has looked generally, this problem seems to finally be relegated to a bygone era.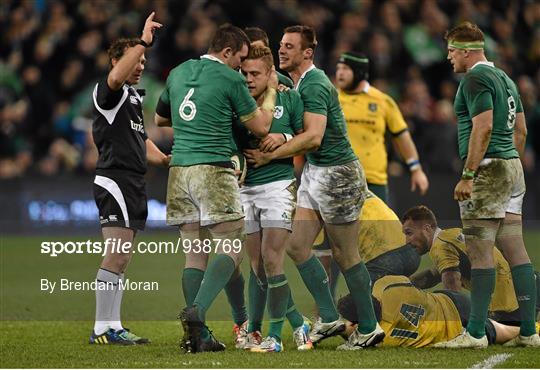 Enjoyable Experience
Similar to the above, the Irish camp hasn't always been the highlight of many careers. You got the feeling at stages in the EOS camp, and particularly in the latter stages of the Kidney era that players just wanted to get back to their provincial side.
Of course, that's an indictment of both the players and the coaches. But listening to Sexton talk yesterday about how he'll be looking forward to Christmas camp, and hearing the players speak so glowingly about Schmidt's methods, Carton House, like Woodward's Pennyhill Park, is a fortress of unity. ROG made a good point on Against The Head last night with regards how these players 'aren't robots, and need to be enjoying themselves'. It seems the balance is right at the moment.
Competition
Given the loss of so many players to injury, this was always going to be a series where fringe players got their opportunity. It's no stretch to say that competition in Irish rugby is at its healthiest since the start of the professional era. Foley, Ruddock, Zebo, Madigan, Payne, Henshaw and McGrath all showed their test credentials across the three game period, while Jones, Olding, TOD and Cronin all re-iterated their worth. Injury will happen, and the guys coming back in, perhaps other than SOB and Healy, will find it difficult to get back in. Healthy competition breeds healthy results.
Supporters
Similar to the supposed provincial divides within the team, the support base is usually split down provincial lines when it comes to selection. Of course, winning denigrates all dissenting voices, and this time around, there's been little to give out about, even if the denizens of a certain Munster fan site still have the claws out! The atmosphere at the new Aviva has been a slight sore point, but against South Africa, and particularly Oz, the decibel level really rose. Irish fans love a good bandwagon, and with England at home this year, along with a 'home' World Cup, expect the support to only ramp up.
Consistency
Perhaps the most impressive point of the Schmidt reign has been the flexibility, but without losing consistency. Sure, we've had better days than others, but one loss in 2014 in Twickers is an incredible result. I've discussed before how Irish rugby needs to move beyond needing to be written off as underdogs, towards accepting favouritism. That's a journey that Leinster and Munster have come through since the early 2000s, and it seems our national side is now accepting it too. The Oz victory, given the pressure and expectation of the new world ranking, was most impressive.
Being an international head coach is no longer sending out 15 lads to do battle. Without wanting to be too sycophantic (we've seen with Lancaster how the narrative can change so quickly in international rugby), across the full gamut of management (psychology, culture, strategy, innovation, team building) Schmidt has united Ireland. By Sir Clive's standards, we're on course for a World Cup tilt.
Let's hope we see a Schmidt equivalent of 'Winning' in early 2016. Somehow, even if the unthinkable happens and we do the business, I doubt it. It's just not Joe's style.