Was it ever going to be any other outcome?
Not the result of the game I mean, a tough, error ridden battle on a foggy Aviva night was expected.
No I'm referring to the reffing complaints.
From the second Alain Rolland was announced as a replacement for Monsieur Whistle Happy Gauzere last week, the aftermath of 'O'Clasico' was always going to be a shitfest.
The excuses were there for either side.
A Leinster loss would, of course, have meant Rolland was trying too hard to hide his hometown bias, while a Munster loss was an easier scenario to describe – a former Leinster player with the blue jersey on under his reffing outfit, looking to ping any man in red. Even Anthony Foley couldn't resist painting that picture on Friday.
And thus, so it transpired! Not 10 minutes after the final whistle, the moaning started across the usual channels.
'doris', 'findlater', 'pro12' & 'rolland' are now trending in Ireland http://t.co/Nes0CAFSgl

— Trendsmap Ireland (@TrendsIreland) March 29, 2014
In reality, there wasn't much contention last night. The first half went as many had expected. Munster came out with all guns blazing, looking to lay down a marker and ruffle a few feathers (three cliches in one sentence, maybe I could be a sportswriter after all!).
The pressure on Leinster's scrum was obvious from the start, with Bent's  slight frame not able to take the weight from Botha and O'Connell behind him.
Munster went into a quickfire 9-0 lead, without really threatening the Leinster line, and you thought back to Harlequins last year and how Munster's relentless intensity overcame a lack of any real coherent gameplan to overwhelm Quins.
Leinster, on the other hand, made error after error. While Madigan's credit was in the black overall, he kicked at least two out on the full in the first half, Leinster made three poor handling errors, the lineout misfired and the scrum was under constant pressure.
And yet, it could have easily been 9-12 at half time. Munster weren't fluid enough to put any real patterns together, despite that dominance.
The third quarter was the turning point, and perhaps illustrated the greatest difference between the sides at the minute.
There's no doubt that the gap is as close as it has been for the past few years, but Leinster's clarity, accuracy and speed in attacking in waves is perhaps the reason why they're still, for the moment anyway, the top dog.
Shorn of their groundhog and leader O'Mahony, Munster struggled to stop carriers like Heaslip, Strauss and others, never mind get into place for the jackal. Tommy O'Donnell had a quiet evening as the open space he relishes never really materialised. Yet again, this fixture was won at the ruck and here Leinster were on top.
Madigan's often kamikaze running style and Reddan's attacking of the blindside kept Munster's pillar and close in defence occupied, and the tempo told with 13 points and a yellow card in a 20 minute period.
Back to Mr Rolland though. It was during this period that most of the post game revisionism focused on.
Firstly, let's take the yellow card. 
Kilcoyne's 'play dead' impression was foolish at best, at a time when Munster had given away two penalties and were on a warning. There can be no complaints here. Leinster went in for the kill, and while it didn't come from that driving maul, it came soon after. There were queries about the legality of D'arcy in the run up to the try, but it would have been a harsh call to state 'held and grounded' in that instance.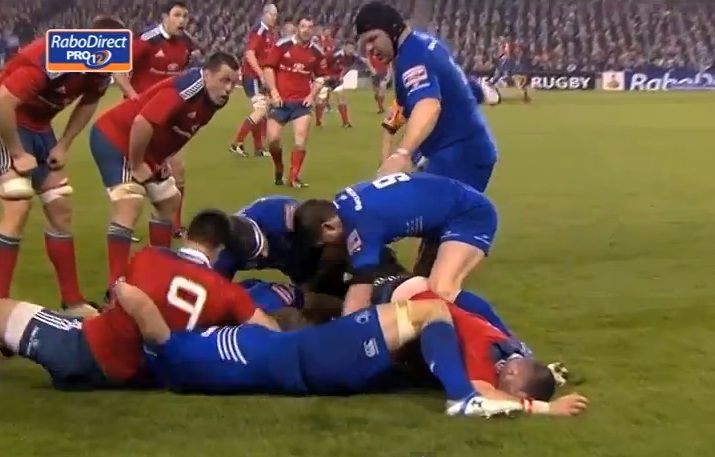 Later, at the other end, Leinster infringed twice in close succession, Rolland gave his warning and Munster kicked the penalty.
Now, no two penalties are the same, I'll agree, but across the gamut of professional sports, all players say they want from an official is consistency. Leinster were let off the hook, while Munster took the warning and infringed again.
Elsewhere, the scrum battle was won by Munster, who were rewarded in the first 20 minutes. After that however, it became the Kilcoyne/Ross show. It's not beyond the bounds of realism to say that Ross schooled his younger compatriot in some of the darker parts of the front row.
Some suspect binding and 'slips' took some of the pressure off Bent on the other side. However, let's remember a certain ailing Marcus Horan doing a similar job for Munster a few years back in Thomond against a furious Ross.
While both Varley and Penney complained at the end about their lack of reward from the scrum, if you look back at it, in reality the second half was fairly even, with Munster not really getting a shove on, or at least enough to warrant a penalty that wasn't given.
Alain wasn't the reason Munster lost this game, and neither was the scrum battle.
Munster's backline play is still constipated. The selection of 'Sonny Din' Hurley at 12 was supposed to bring more offloading and a sprinkle of finesse into the backline, but didn't work.
For me, Laulala is the biggest enigma in a red jersey. I commentated last night about just how dangerous he is in space, and his offloading skills can create holes in any defence.
However, distribution doesn't seem to come into Casey's vocabulary. Keith Earls was left idle for most of the game last night, and most of Munster's second half attacking play saw Zebo, Earls or VDH running their own broken patterns.
A gamble to play Hanrahan at 12 would be huge at this stage, but his distribution skills might be worth it. Munster's back three is capable of big things, but the lateral nature of their play is taking away any space at the minute.
Munster only once really threatened the Leinster line, and despite some good quick ball, never really looked to be all that incisive. That's a worry, and against a Toulouse team that can score at will, it could cost them dearly. Will forward power and penalties be enough to beat a top French side?
On the Leinster side, there were heartening performances from Heaslip and Jennings, who comprehensively outplayed their opposite numbers, along with Reddan, who did likewise.
 

Reddan and Madigan will be the starting halfbacks in the Mayol on form, but will need to kick better and control the game a lot more if Leinster are to prosper.
A big performance from Jennings will be sorely needed next weekend, given the likely makeup of the Toulon backrow will include 'pocket rocket' Steffon Armitage.
Leinster's scrum will be bolstered by the return of Healy, and likely Moore & McGrath too, while the ball carrying strength of Rhys Ruddock will be critical. McLaughlin is not having a good season and doesn't seem to possess the ballast of Ruddock at this stage.
The friendly fire is over in any case. The real test of both these teams will be where they respectively stand come Sunday evening. Don't be surprised if it's Toulon v. Munster in a semi final and Mr. Rolland's performance is forgotten about quickly.
By the by, I understand the need to entertain the fairweather/prospective (delete as appropriate) fans who attend these games along with the usual die hards, but would it really harm the occasion to kill all the theatrics, cheerleaders, incessant inserts from the P.A. and fireworks etc? The derby atmosphere in the Aviva is always strangely muted, could it be that the attempt to 'create an atmosphere' is actually the reason? Just a thought Leinster Rugby…