Cast your mind back to Joe Schmidt's time as Leinster manager and imagine these two scenarios.
1: A must win away game against the forward drive French Top 14 champions without one of your key carriers on a sticky pitch on a Winter Sunday afternoon.
2: A visit from the Ospreys with a snippy little scrum half, a 'take the piss' 7 and a powerful looking pack with 5 Lions in tow. You need to control this game and take the sting out of their pack before you look towards anything else.
While I'm slightly hamming it up, one things for sure, in Joe's mind, there would have been only one way for the job. Draft in the Bossman.
Schmidt's enigmatic choices for home and away games often centred around Healy/Van Der Merwe at loosehead, Jennings/McLaughlin for the extra back row spot, but most importantly, Reddan/Boss for the 9 jersey.
Boss would play the sticky wickets away to the likes of Glasgow, Bath, Racing Metro, Montpellier and most notably Clermont – for the away games in 2010 and both in 2012, the he started the away games.
Reddan, meanwhile, would often come in to increase the tempo for a return game, most notably against the likes of Cardiff & Bath in the Aviva, or indeed Clermont at home.
Boss is a somewhat unique scrum half in Irish circles. He's powerfully built, Stringer-esque at driving his forwards on and has often linked well with power forwards like Sean O'Brien, Sean Cronin and Jordi Murphy by drawing a pillar defender and lining up an offload to the onrushing player on an angle.
He's also a reliable bugger – Boss bore the brunt of a huge workload at the end of last season after Eoin Reddan's freak 6 Nations injury, leading Leinster to Rabo and Amlin glory.
On the negative side to that, Boss has also had an issue with box kicking and his passing isn't nearly as crisp as a Reddan or even Murray.
Whether it's typical Antipodean antipathy or simply poor performances on the training paddock, Boss has recently been put out in the cold slightly by Matt O'Connor. He's completed 80 minutes only once this season, but it's the last three games that have really been interesting.
For Connacht (a traditionally prickly place to go), Castres and Ospreys, Boss played a total of 48 minutes out of 240.
Despite Reddan's good form, I'd personally question the rotation policy, particularly given the 5 day Heineken turnaround, the extra leadership that Boss seems to exude and taking into consideration the lack of control Leinster have exhibited at times over the last few games.
A substitution with 35 minutes to go on Friday night against an ailing Ospreys would have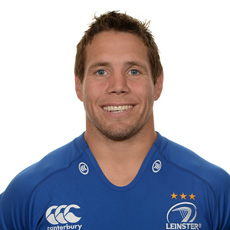 been ideal. Sometimes Gopperth and particularly Madigan can do with some reigning in, and while it likely wouldn't have changed the outcome drastically, Leinster wouldn't have been so gung ho I'd wager, using the forward advantage more often perhaps.
With Reddan likely to bench for Ireland after finding form, Boss should come into the reckoning for the crucial Rabo 6 Nations period, forming a partnership with the equally experienced Gopperth. He'll take his place calmly, leading a youthful team around the pitch with trademark snipes and sweeping behind a 'greenhorn' back line.
While O'Connor is used to speed in his scrummies (he marshalled Mickey Young and Ben Youngs at Leicester for example) failure to use his heavier artillery in Toulon, particularly given O'Brien's absence would be a mistake. Don't be surprised if the Bossman is tasked with doing a job in Spring in the Mayol.